Our craftsmanship and style innovations have been sought after for Home and Lifestyle Magazines, Dream Home Lotteries and so much more. Now we want to bring that level of elite quality and sophistication to you.
Vranic Homes is proud to be one of the builders for this years Dream Home Lottery.
The 2020 Dream Home by Vranic Homes Inc. was designed and crafted to be comfortable, sophisticated, and functional for today's modern family. This luxurious bungalow boasts finishes and products which were carefully curated to provide a timeless style and easy living within its 2335 square feet, including Italian porcelain, custom cabinetry, and unique design details that give this home a personality of its own.
An open concept main floor with a kitchen, dining, and living space with large windows perfectly positioned for optimal natural light all day. Features such as a sound system, high-end appliances and ample storage make this home ready for easy living and entertaining. This home was designed and built with care and exceptional attention to detail.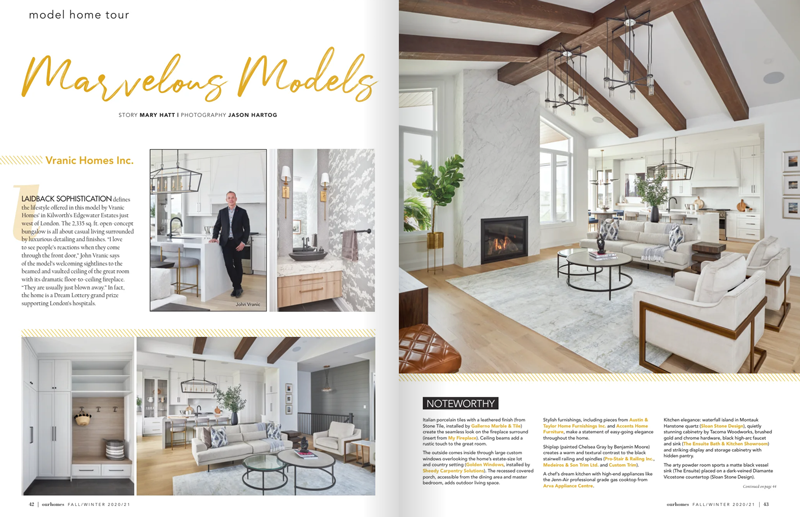 Laidback sophistication defines the lifestyle offered in this model by Vranic Homes' in Kilworth's Edgewater Estates just west of London. The 2,335 sq. ft. open-concept bungalow is all about casual living surrounded by luxurious detailing and finishes. "I love to see people's reactions when they come through the front door," John Vranic says of the model's welcoming sightlines to the beamed and vaulted ceiling of the great room with its dramatic floor-to-ceiling fireplace. "They are usually just blown away." In fact, the home is a Dream Lottery grand prize supporting London's hospitals.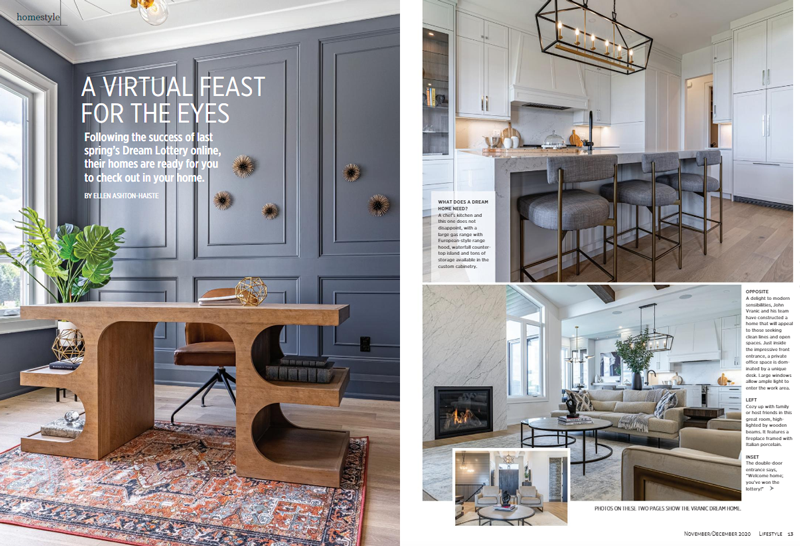 A virtual feast for the eyes.
Following the success of last spring's Dream Lottery online, their homes are ready for you to chec out in your home.